FOR LEARNERS
Fun lessons with quizzes and games for learning
grammar
. Tests and tips on
reading
and fun
topics
like sports, movies and music for building
vocabulary
. ESL podcasts for
listening
plus
spelling
and
pronunciation
rules and games.
Writing
and
speaking
tips,
idioms
and
slang
references and so much more. All for fun and all for free!!
FOR TEACHERS
Free resources including
lesson plans
, printable
ESL worksheets
, grammar and vocab
classroom handouts
and fun
ESL activities and games
. You'll also find
teaching tips
, advice and resources for
TEFL training
, a
TEFL forum
and
ESL job offers
from China and around the world. Free for all teachers!
FOR EVERYONE
ESL Store
useful ESL resources for learners and teachers, including ebooks, games and software
MyEnglishClub:
your own page with blogs, photos, videos, discussion, chat, audio and more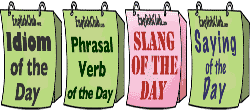 ESL or EFL? What do ESL and EFL mean? ESL stands for English as a Second Language. EFL stands for English as a Foreign Language. ESL is used when people learn English in an English speaking country. EFL is used when people learn English in a non-English speaking country. Is this important? Not very, if you are a student. But there are some important technical considerations for teachers.